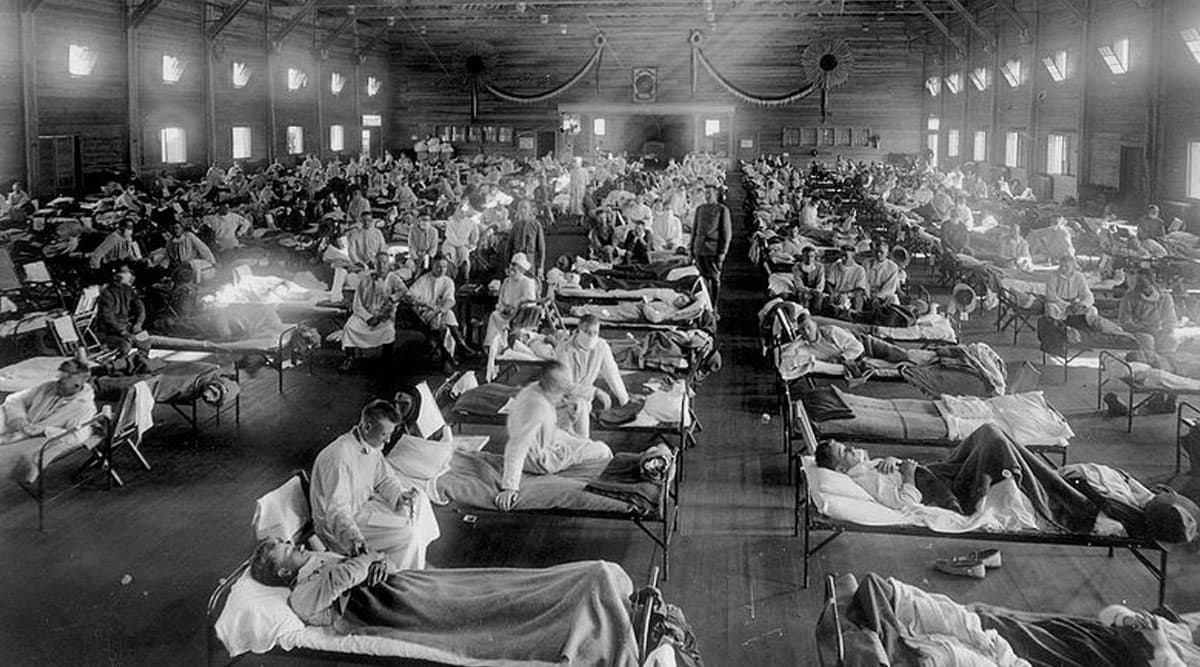 I had a little birdie, his name was Enza; I opened up my bedroom window, and in flew Enza
Children's play song from the 1918 Spanish Influenza Pandemic
One of the great mysteries of history is why we continue to wipe it from our memories, both individual and collective. In no instance is this more apparent than during the 1918 Spanish Flu Pandemic which killed more Americans than all the wars of the 20th century combined and upwards of 100 million people world wide. And, almost as quickly as it sprang itself onto the world's population, the world – and America in particular – seems to have forgotten all about it. I don't recall much if any publicity during 2018, the 100th anniversary of the event though I was diligent in keeping an eye out for it. It never came. I wondered, why?
The actual or exact source of the virus is not really known to researchers or epidemiologists, although it is widely thought to have had its synthesis among Kansas military personnel. On the morning of March 11th, after an initial soldier reported to sick bay with a temperature, aches, and respiratory symptoms, within minutes another reported to sick bay with the same symptoms. By that same evening there were over 100 patients in the ward and within one week the entire ward was filled with over 500 patients all having the same symptoms. Sending soldiers over to Europe – on a military transport barge no less, literally packed with soldiers (see photo above) – only served to accelerate the rate of infection further and spread it out geographically. It is estimated that some 650-675,000 Americas alone died during the pandemic and to make matters worse, this strain of flu was killing young men in the prime of their lives, aged 21 – 29. Unlike many other strains of influenza, this one was killing the most fit and seemingly strongest among us.
The pandemic made a its deadly run from March of 1918 to December of that same year and it was around that time that it began to run its course. After a dip in diagnoses in late spring, early summer, it came back with a terrible vengeance in September and October; especially October. While people all over the country began to mill about again, Philadelphia a standout at this time, they weren't prepared for what was about to hit them.
The virus had mutated over the summer and became much more successful at penetrating the respiratory membranes; the trachea, lungs, and alveoli, and turning them into blue masses of mush, as one doctor described it. Their bodies were so oxygen deficient their lungs literally scrub the entire body for O2. Their skin turned blue, cyanotic actually, as the system tries to extrude some oxygen, any oxygen, from the facial skin while their lungs are incapacitated, completely incapable of respiring, literally drowning in their own body fluids. And, even more frightening, it might all happen in just one day, 12 hours or even less in some cases. Before a doctor even began to think about what was ailing his patient, they would be dead. It had become a much more competent killer.
The virus began its resurgence in September, the first wave of the newly mutated Spanish Influenza, when 12,000 Americans died that month alone. But it would get even more deadly the following month, October. October would prove to be more deadly than any singular month with 195-200,000 Americans dying in that month alone. The country would literally run out of caskets; funeral homes had to hire armed guards to provide security for their casket inventory. Pine boxes were provided to households with sick relatives in their homes. They were to put the boxes out on their porches after the person finally gave up the ghost and, reminiscent of the "bring out yer dead" episodes of the Black Death of the 1340's and 50's, a flatbed truck would come and pick them up each day. Young boys would call on their friends to find out they "weren't home" and they should go home and ask their parents where Johnny or Frankie were.
So with all this tragedy and calamity happening all over the country and the world, why are we as a society so quick to drive it from our memories? Listening to the news and hearing the actions being taken by mayors, governors, businesses, etc. and listening to the reports of new cases and new deaths caused by this new Covid-19 virus is very reminiscent of the 1918 Pandemic. One would think that we would know at least some of the steps society should be taking in order to stave off the worst of the epidemic. Moreover, one might think that we should have been much better prepared for such an event; adequate emergency medical supplies, medicines, equipment, doctors, nurses, etc. Instead we seem to much less prepared for even a "routine" epidemic of seasonal influenza. It is said that Trump disbanded the Infectious Disease & Global Health personnel from his National Security Team, writing it off as unnecessary. Dr. Anthony S. Fauci, the director of the National Institute of Allergy and Infectious Diseases, told House lawmakers, "It would be nice if the office was still there." In fact, Trump was not even aware that the flu kills people in the US at all; he commented on this during his visit to the Centers for Disease Control in Atlanta, GA last week. "Who would believe it? Trump was quoted as saying. Still even more puzzling was the fact that his own paternal grandfather died from the influenza in Nov 1918 and Trump seemed completely unaware of it. This is not a suitable characteristic of a successful society.
With scientists, biologists, epidemiologists, and many other professions focused on a "not if, but when" scenario in search of a cure for viral infections for decades now we should be able to expect our leaders to be much better prepared for an outbreak. The recent scrambling and hand-wringing in Washington was a tragic example of the limited vision and reactive nature of our government and their inability to foresee and prepare for such a national and global crisis. In fact, they knew months ago that there was a great possibility of a new strain of virus coming from China and they completely failed to act, at least in the interest of the nation. Some US senators such as Sen Richard Burr did find the time to sell off their stocks and investment instruments that might be negatively affected by such a crises. However, there were no systems in place to bring to bear against a new healthcare crises; no military-style deployment of emergency health services, equipment or medicine anywhere in the country. This can only be seen as a complete failure of leadership, from the top down.
If we couldn't remember to learn from similar pandemics of the past, we should at least try and learn something from this one. America needs new leaders with new ideas about her needs and logical, rational plans to meet those needs. No where is that more evident than this new Covid-19 crisis.